«Smoking kills. If you're killed, you've lost a very important part of your life.»

- Brooke Shields, during an interview to become spokesperson for a federal anti-smoking campaign. One of the worst celebrity quotes ever.
If we don't succeed, we run the risk of failure.»

- Dan Quayle, former U.S. Vice President
«Fiction writing is great. You can make up almost anything.»Ivana Trump
-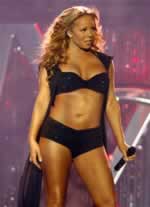 «Whenever I watch TV and see those poor starving kids all over the world, I can't help but cry. I mean I'd love to be skinny like that but not with all those flies and death and stuff.» Mariam CASEY
«My sister's expecting a baby, and I don't know if I'm going to be an uncle or an aunt.»
- Chuck Nevitt, North Carolina State basketball player, explaining to Coach Jim Valvano why he appeared nervous at practice.
«The Holocaust was an obscene period in our nation's history. I mean in this century's history. But we all lived in this century. I didn't live in this century.»
- Dan Quayle, former U.S. Vice-President
«And now the sequence of events in no particular order.»
- Dan Rather, television news anchor
«Natural gas is hemispheric. I like to call it hemispheric in nature because it is a product that we can find in our neighborhoods.»
- George W Bush, Austin, Texas, Dec. 20, 2000
«The doctors X-rayed my head and found nothing.»
- Dizzy Dean, explaining how he felt after being hit on the head by a ball in the 1934 World Series.
«I was in a no-win situation, so I'm glad that I won rather than lost.»
- Frank Bruno, Boxer
«I have opinions of my own --strong opinions-- but I don't always agree with them.»
- George Bush
«I want to rush for 1,000 or 1,500 yards, whichever comes first.»
- George Rogers, NFL New Orleans Saint RB, when asked about the upcoming season
«I do not like this word "bomb." It is not a bomb. It is a device that is exploding.»
- Jacques le Blanc, French ambassador on nuclear weapons
«The word 'genius' isn't applicable in football. A genius is a guy like Norman Einstein.»
- Joe Theisman, quarterback and sports analyst
«Half this game is ninety percent mental.»
- Danny Ozark, Philadelphia Phillies manager